Oven-scrambled eggs are a time-saver that you will love. Whether you want to cook breakfasts ahead of time, or cook for a crowd Oven-Scrambled Eggs are a great solution. I tried a few recipes that I found online. I made a variety of substitutions for milk and cream and was very disappointed by the texture. They ended up having crunchy bits on the outside and the inside was so rubbery that my kids refused to eat them. And, that's not the textural goal! My grandfather, a biochemist who loved to apply his field in his kitchen, maintained that the fluffiest scrambled eggs come from adding water, and not milk or cream, to the eggs. That's one problem solved! Another problem with the recipes I tried was that the fat pooled on the top of the eggs. This allowes them to brown too much. They end up with an oily texture when the eggs are mixed together. I discovered that the secret was to blend the fats with the eggs before baking. The result was light and fluffy scrambled eggs with fantastic flavor! I often make this on Sundays and save myself a good twenty minutes every weekday morning.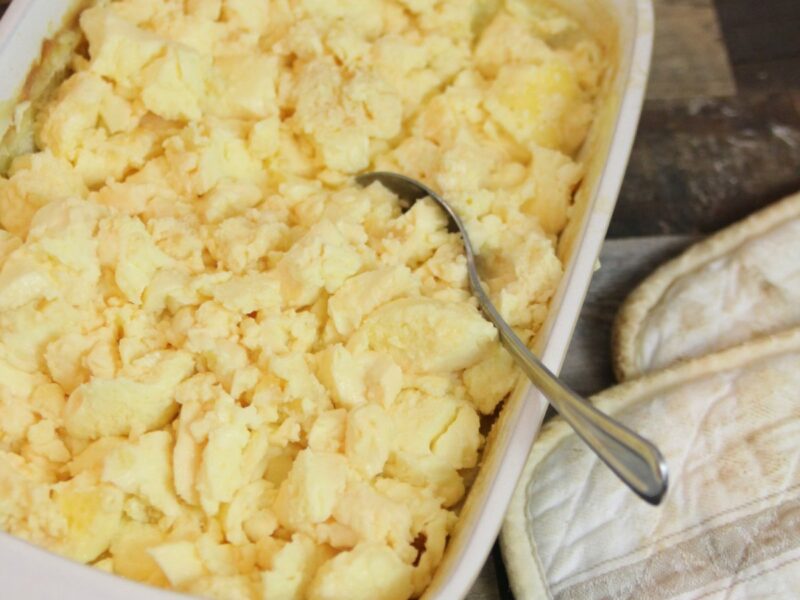 Oven-Scrambled Eggs
Ingredients
24

large

eggs

1/2

cup

butter (1 stick)

melted

2

cups

water

2

teaspoons

salt
Instructions
Blend all the ingredients together on high for 20-30 seconds (depending on the size of your blender, you may need to do this in two batches–you can blend one dozen eggs with the fat, then the other dozen eggs with the water and salt, then mix in your baking dish).

Bake, stirring at the 10 minute, 20 minute, 25 minutes and 30 minute marks.

Remove it from the oven when just slightly underdone (a bit gooey underneath when you stir it), typically at about 30 minutes, and give it a good stir to break up bigger pieces. Let it sit for 3-4 minutes before serving for it to finish cooking. If it's not cooked enough at 30 minutes, check every 3-4 minutes until done. It shouldn't take more than 40 minutes, even if you have very large eggs.
Nutrition
Nutrition Facts
Oven-Scrambled Eggs
Amount per Serving
% Daily Value*
* Percent Daily Values are based on a 2000 calorie diet.
Notes
For storing leftovers: let the eggs cool and then move to a covered dish. If the eggs release water while they cool, discard the water (it'll make the eggs turn green during storage). Reheat covered in a toaster oven or uncovered in the microwave.
Share this article: